Shrine Auditorium Seating Chart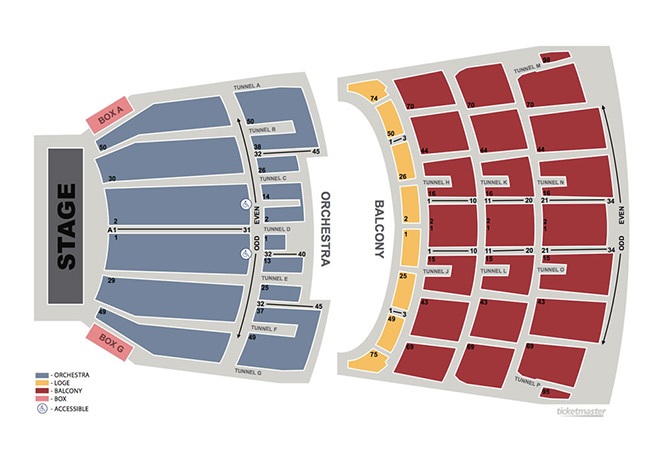 The Shrine Auditorium is well and truly known for it's ability to suit all kinds of events and is often transformed effortlessly to suit which-ever event is taking place on the night. This multi-purpose venue sure knows how to capture the magic while hosting a wide range of entertainment.
With it's large capacity of 6,300, The Shrine Auditorium aims to please all and has a wide range of seating options available to choose from for it's guests. When booking your desired event taking place at The Shrine Auditorium, you will have to option to also select your seating arrangements.
Accessible seating is also available and can be booked at the same time as booking your event tickets online.
For all details on Standard and VIP seating, see below:
Standard Seating
The seating chart consists of a classic tier plan of Orchestra level and Balcony, as well as private boxes which can be booked along side event tickets.
Where-ever you choose to sit during the concert or other event, there's no doubt in mind that you will be blown away by the stunning views across the auditorium and the stage.
VIP Access
If you wish to upgrade to VIP, as well as enjoying an incredible seating experience, you will also gain access to many benefits such as the exclusive VIP bar area and the VIP lounge located in the balcony.
This is a great way to enhance your evening and create an even more special night at The Shrine Auditorium. If you have a celebration coming up and want to attend The Shrine Auditorium for an event then why not book the whole VIP treatment also?
The Shrine Auditorium continues to impress and deliver and there is always plenty of must-see events and unmissable experiences taking place all throughout the year – come and be a part of something special at The Shrine Auditorium!
NOTE: Shrine Auditorium may host events that require different seating arrangements. When you select your tickets, please check the seating chart map that is specific for your event.
You can book your ticket today and grab yourself the best seats available. Check out the Shrine Auditorium schedule to see all the exciting upcoming events.
For policies and authenticity guarantees regarding the tickets provided, please see the ticket information page.